The Town of Ashland bustles year 'round, but spring is an especially energetic season as the town's cultural and business initiatives roll out.  Although primarily residential, the town integrates small businesses as well as cutting-edge tech corporations into its community initiatives.
New England History
Centuries ago, Ashland was a stopping point on a major Indian trail which later became known as the Bay Path, connecting Cambridge and Connecticut. It was here that a community of Natick Indians was established as the Village of Magunkaquog in about 1659. The town is also known as the site of Henry Warren's invention of the electric clock, later manufactured here under the Telechron name. Today, the high school's teams are the Clockers.
Corner Spot
Indicative of the energetic business community emerging in this town, the Corner Spot was developed in early 2017–through individual donations—as a place for new businesses to debut for one to six weeks. Opening in June of 2017, this innovative example of community placemaking will offer a rotation of new enterprises, as well as a restful spot for simply hanging out.
Farmers Market
One of the region's most robust farmers' markets offers special themes—such as Dog Day –each Saturday morning (June 10-October 7) as well as live music, non-food vendors, and family activities in the park at 125 Front Street. On special weekends throughout the rest of the year, the Farmers Market pops up indoors to offer Pre-Thanksgiving and Mid-Winter Markets.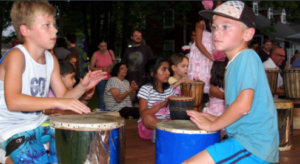 Special community events
Long a home to annual community events and festivals, such as Ashland Day in September, the town now offers more programming through Arts!Ashland Alliance. Through arts and culture programming, the group also works to cultivate the economic vitality of the community. Its signature event is the Dragon Fly Festival, held mid-August.  Other cultural offerings come from the Friends of the Ashland Library, which offers speakers and documentary film evenings.
Dining
Pockets of great cuisine are spread throughout this community of 18,000, including along Routes 126 and 135, as well as downtown sidestreets. The gourmet Oregon Club, a former speakeasy, is tucked among residences in east Ashland.  In downtown, Stone's Public House (circa 1832) boasts a ghostly history and modern hearty pub fare. New Mexican and Asian eateries have debuted in recent years as well.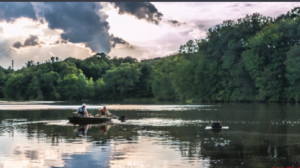 Recreation & Sports
To commemorate the site of the original Boston Marathon Start Line, Ashland now boasts Marathon Park., which is now the site of the start line of the semi-annual Marathon Park Prep, a half-marathon favored by runners eager to experience a large portion of the Boston Marathon's April route.
There's plenty of recreation for those inclined to relax. The 470-acre Ashland State Park offers swimming, picnic areas, boating, fishing, and hiking/biking trails. The Bay Circuit Trail connects Ashland to 34 other communities. The public schools' new turf fields are the site of regional sports competitions.