Given that Horace Mann, the father of the American public education system, grew up in Franklin, it's no wonder that there's a lot we can learn from this town!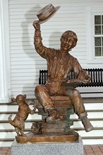 One of the southern-most municipalities of MetroWest, Franklin's cultural and business scenes are thriving because of the strong collaborations between nonprofit, the for-profit, and the public entities.  For example, Franklin Downtown Partnership (FDP) connects businesses with each other, with local nonprofits, and with the town's economic development office to mutually support one another and help bring customers to each other.  FDP offers three annual festivals: Strawberry Stroll, Harvest Festival, and Holiday Stroll. Franklin's downtown map is one of FDP's collaborative projects. Make sure to carry a copy when you're exploring the many restaurants, retailers, and performing arts venues! A special map of downtown walking routes is offered by WalkBoston.
Dean College, situated at the edge of downtown, helps make Franklin particularly vibrant.  High-quality student performances in dance, theatre, and music are open to the public. The Franklin Art Association organizes other cultural events. Nearby is the Franklin School for the Performing Arts and its new Black Box Theatre, and the town-managed Franklin History Museum, with Horace Mann himself greeting visitors from the front porch.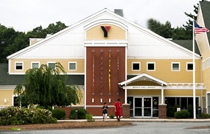 Outdoors, there's plenty of space in the Franklin State and Franklin Town Forests and a series of small lakes known as the Franklin Reservoir.  If it's raining, head inside to Pirelli Veterans Arena for ice skating, Hockomock YMCA for family recreation, or United Archery Lanes for bowling.
And if you really want to learn a lot during your visit, head to the Franklin Public Library, established in 1790 as the first public library in America! Its first books were donated by—not surprisingly—Benjamin Franklin.
To get to Franklin, drive south on I-495. From Boston, you can take MBTA  rail service. The GATRA bus authority, which serves Franklin and surrounding towns.